Will The Real Karl Lagerfeld Please Stand Up?
文章導讀
For Karl Lagerfeld there is no sign of slowing down. Suzy Menkes meets the fashion powerhouse as Vogue previews Chanel\'s vibrant and enigmatic Métiers d'Art collection.
敬請期待中文版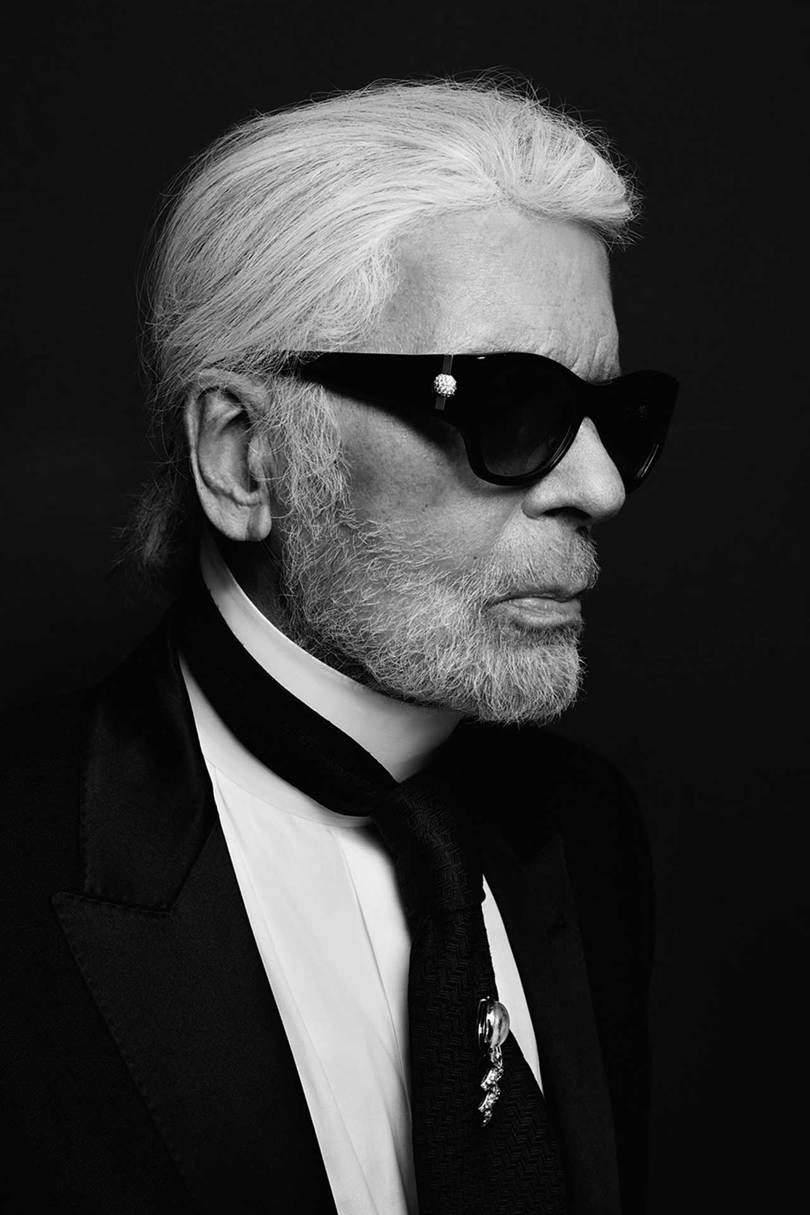 karl lagerfeld
Karl Lagerfeld's new beard gives him the look of a professor – a very well-dressed one – as he sits in the Chanel studio the day after his latest haute couture show.
My eyes go straight past the jacket's colourfully stitched surface to his necktie, pinned with his clip from Suzanne Belperron, the 20th-century jewellery designer. He makes me look more closely at the sparkle and I see the tiny face and sapphire-blue eyes of Choupette, his beloved Birman.
That cat! I had seen Lagerfeld a few weeks earlier, caressing the fluffy creature that travels with him, on his return to his native Hamburg for the Chanel Métiers d'Art show – an annual travelling showcase of the maison's craftsmanship. Now the mighty designer is telling me that his various homes have been redesigned to accommodate his 100,000 books – and Choupette.
"I love the physical presence of books, and in my bedroom in Paris I pulled down every wall so it's like a huge box of frosted glass," he explains. "There are no doors, but a huge studio where I sketch and read and where Choupette lives. I must say, I'm pretty happy there. Everything is impeccable and one of Choupette's two maids takes care of her the minute I leave, because she doesn't like to be alone."
As Karl involuntarily strokes his desk with his gloved hand, he continues talking about his furry friend. "I never thought that I would fall in love with a little cat like this. But I think it is very funny and I cannot imagine another life because I don't want it. I'm envious of nothing."
Lagerfeld's book about his pet, Choupette: The Private Life of a High-Flying Fashion Cat, captures the essence of his wit and also his knowledge of literature and art, as I have witnessed in his homes from the books piled on tables and spilling over on to chairs. I am enchanted by his suggestions that Choupette's life resembles Las Meninas, the Velázquez painting of the Infanta Margarita Teresa surrounded by servants.
In the four decades during which I have attended his shows, enjoyed his exceptional cultural reach and his edgy – even wicked – wit, I have never known Lagerfeld to be at his desk in the morning. This must be his culture time: sitting at home reading, impeccably dressed in the latest Dior Homme suit. He remained faithful to the style, even after his favoured designer Hedi Slimane left the brand. Now Hedi has been chosen as the new artistic director of Céline, and Karl is literally licking his lips about his return.
"Hedi is a professional killer," he announces with relish. Hedi has been one of the most widely mentioned names in the endless gossip about Karl's predicted departure. "Don't mention the succession; don't talk about retirement," I say to myself as I walk to the Chanel entrance on Rue Cambon in Paris and take the small elevator to the fourth floor. In the studio, the designer pours us each a glass of golden Chateau d'Yquem, while we reminisce about going to the famous Bordeaux vineyards for the 2005 wedding of Delphine, the daughter of LVMH owner Bernard Arnault, when Karl was, as ever, "fashionably late", interrupting the service by clumping down the aisle in his boots. "But the crowds were cheering," he says, with a wicked twist of his soft mouth.
"Fashion is about change – and I like change. I do it like I breathe."
Now I am hearing some hot news: Lagerfeld will make two more collections for Chanel, owned by the Wertheimer brothers. The house is launching Coco Snow and Coco Beach, two self-explanatory lines that, with Fendi and his own Karl Lagerfeld brand, will bring Karl's workload up to eight collections a year at Chanel – five at Fendi and two of his own brand. And those 15 shows do not include his photography and books, published by his friend and colleague Gerhard Steidl. Impressive for someone half his age, although it is still uncertain whether he turns 80 this year (which he has intimated), or is 84, as claimed by his peers.
"You know, the youth obsession is a kind of racism," he says. "Do you know how long my contract is? Until 2045." Is this for real? That is more than 25 years from now, by any reckoning bringing him to at least 105 before he is allowed to lay down his pencil. He speaks cheerfully about his never-ending work: "I have a lifelong contract and I am enchanted," he says of his roles at the privately owned Chanel and at Fendi, now part of Arnault's LVMH empire. "My work conditions are fabulous and don't exist anywhere else."
The following day he will fly to Rome ("for Fendi, of course, I'm not a tourist") on a private plane, as he no longer travels any other way, especially since the selfie generation appeared. "I'm commercial, but not for commercial flights," he says. "I hate all that 'arms up' at the airport. I don't want to be touched. I can hardly support it with my hairdresser."
Fendi has been Karl's first fashion "family", since he revitalised the Roman fur house in 1965. Fifty-three years! Even when I was sitting in front of the Trevi Fountain for the Fendi Roma haute couture show in 2016, I could hardly believe the longevity of the partnership.
Silvia Venturini Fendi, the remaining family member in the company and Lagerfeld's creative companion, tells me her childhood memories of those days. "I remember big parcels of sketches, books and swatches coming and going from Paris to Rome – anything to start working," Silvia says, explaining that today the drawings are just the same – precise, detailed, definite – but now arrive digitally, with no chance of rescuing rejected drawings that, to this day, Karl will scrunch up and throw away while he goes on to the next thing. "My Aunt Carla, who was always a good archivist, used to grab sketches from the dustbin," she goes on. "She would iron them and file them in the archives. But if you talk to him about the archive he becomes mad because he doesn't want to talk about the past."
I remember the detailed drawings I saw in their hundreds at the exhibition Karl Lagerfeld: Modemethode, at the Bundeskunsthalle in Bonn in 2015. True to form, he never went to see the work curated by his muse and cultural partner Amanda Harlech, who had the agonising hope, right to the end, that he might pass by one day.
I ask him if he still feels emotionally attached to Fendi, now that Carla, the family matriarch who died last year, and the sisters have faded away with the arrival of LVMH. He dismisses my question. "Emotional is difficult to say – I don't overact with emotions," he says. For Lagerfeld, the end of a collection is the seedbed for the next, and Silvia Fendi tells me about their ritual at the end of each show, "when we go backstage and give each other big hugs and say, 'OK, let's do the next one.'"
"Fashion is about change – and I like change," says Karl, as though it is a well-worn mantra. As to the work process, "I do it like I breathe. I wake up in the middle of the night and have an idea. I put it on a card I have next to my bed and I make the sketches in the morning before I forget it."
Five Things You Only Know If You Were At Chanel's Hamburg Show
Five Things You Only Know If You Were At Chanel's Hamburg Show
Where exactly does his own Karl Lagerfeld line fit into his work and life? I remember him telling me that it was his "German side". How is it that he could reinvigorate Chanel so perfectly and reinvent fur at Fendi, yet has never been able to develop his own label to the same degree? I ask him straight out how he feels about his own brand. "This is a very strange thing – it's me and it's not me. It's me from outside myself," he says, looking almost guilty. He tells me later, "I turned myself into a cartoon" – referring to the images that decorate his Karl Lagerfeld stores.
Will the real Karl Lagerfeld please stand up? It has been the big question since I joined the International Herald Tribune in 1988 and wrote an article suggesting that Karl played Salieri to Yves Saint Laurent's Mozart, seeing in the two musicians the hard worker and the genius. Karl dismissed the piece at the time, saying that "Salieri had a better life" – a smart response when Saint Laurent was the tortured artist and Karl was having fun around town, much stouter then, hiding his face and making witty remarks from under an enormous selection of elegant fans. In the 1970s, when I was at The Times, I would see him as the designer who brought a fresh, light-hearted vision to Chloé, one collection with a crystal embroidery of a shower running down the back.
Lagerfeld was born in Germany in the mid-1930s, the beginning of a brutal era from which he says he was totally detached, protected by living on his father's country estate. I met his mother briefly in Paris in the 1970s, when Karl was at Chloé. He now tells me that after his father died she wanted to leave Germany, and her move to Paris was essential. He mentions briefly, in passing, his sister in America, and her daughter, a promising opera singer.
Karl has built his own family, and the human equivalent of cat love appeared two days earlier, when I was in the Chanel studio and his godson, the nine-year-old Hudson Kroenig (the model Brad Kroenig's son), came in with his latest shopping bag. The confident, perky little boy is casually cute and appears in the Chanel shows. Karl calls him "darling" and is amused by his sophisticated knowledge of cool shops and hot celebrities. "He is the kind of grandson I would like to have – he's witty, he's beyond, and I think that's very funny," says Karl. "I certainly didn't want to have children myself, because it's too much responsibility. I hate responsibility – that's why I don't want to own my business."
The Great Chanel Set Story
The Great Chanel Set Story
His own childhood, he says, was something to finish as soon as possible, describing his "charming, devilish mother" and her sharp tongue, which she would whip out when he tried to talk to her: "Make an effort, I'm not six – you are." He remembers to this day how his mother threw his diary away because "there is no reason for people to know that you are that stupid".
"I hated being a child – I wanted to be a grown-up," Karl admits. "I never played with children, I never had toys – only paper, colours and books. Apparently, I was unbearable to strangers because I was so obsessed with the idea of being grown up that I missed my childhood."
I had tried to talk about these early years when we were in Hamburg for the Chanel show, but he was not forthcoming about the city of his birth, explaining that he left long ago, in his late teens, when he came to Paris and won the Woolmark Prize, along with Yves Saint Laurent, in 1954.
But now he opens up a little more, expressing regret that he had not felt close to his elderly father. "My father was a very nice person, very sweet, but not as fun as my mother; not very witty, but warm and lovely," he says. "He was born in 1880 – from another planet, no? Sometimes I nearly feel guilty that I was not nice to him, as I was a slave to my mother."
One period that Karl is reluctant to discuss is his relationship with Jacques de Bascher, which lasted for nearly two decades, until Aids swept through the 1980s, destroying a generation and taking away so many in the fashion world, including his partner. Of that dark and tragic period, Karl says briskly, "I'm with Madonna, who says, 'I don't remember the 1980s because I wasn't born.' It's still a nightmare I prefer to forget." I never felt that personal turmoil in his collections at the time, as Lagerfeld moved Chanel forward, reinvigorating the Coco years and focusing on the codes, from pearls to tweeds, that had faded away in the last years of Gabrielle Chanel herself.
Whenever I shut my eyes to recall his early shows for Chanel, I see a vision of Ines de la Fressange, with her aristocratic cheekbones and toothy smile. I asked her recently about those Chanel revival years and she waxed lyrical. "I have thousands of memories. With Karl we invented something that was a bit more than a mannequin – a 'brand ambassador'. But this new métier was spontaneous each day. In contrast to the mannequins who came to try on their outfits two hours before the show, I was in the studio from the first choice of fabrics and the first drawings," de la Fressange says.
"I could give my opinion or choose the clothes that I would wear," she remembers. "And travelling with Karl was such fun! We played a lot of games. We spent our time at the café in the Rue Cambon and went out in the depths of the night to buy records on the Champs-Elysées."
In conversation, Lagerfeld switches from French to English and occasionally German, so I ask him which country feels like home. The answer is sharp and impassioned. "No! No! I am a citizen of Europe. I'm not French and I never intend to become French, because I like to be a stranger," he says. "I'm a stranger in Germany and a stranger here. I never wanted to be part of something I could not get away from. I love to be an outsider. I'm part of nothing, no milieu. I am totally free in that sense of the word."
I contemplate playing psychoanalyst and asking Karl why he feels this disconnection, but my proposed question is quashed before I speak. "I want to have a superficial image – I don't want to look serious," Karl says. "You can be serious, but you mustn't show it."
Everything You Need To Know About Chanel's Cruise Collection
Everything You Need To Know About Chanel's Cruise Collection
I think of the number of couture clients that Karl must have dressed at Chanel for more than three decades, and look forward to some juicy stories that might include how he thinks Meghan Markle should dress for her wedding to Prince Harry. But he appears utterly uninterested in famous clients, except for his friend Princess Caroline of Hanover and her family.
"I never go into the salon – never!" he proclaims. "You've never seen me there. I never go to the shops to take selfies with clients. The only thing you can do is stay home. Go from door to door."
I realise we've been talking for two hours, ranging from books he could not bear to part with to trenchant comments about immigration in Germany. "Only bad journalists talk that long," I say. He replies: "I've known you long enough that I don't consider you a journalist – I don't have to see you in such a limited frame." But after all these years of seeing him at work, at home, publicly and privately, I still don't know which of his different personas is the real Karl.
轉載聲明
本內容系VOGUE時尚網原創或經官方授權編譯轉載,嚴禁以任何形式或方法轉載或使用,違者追究法律責任。
將本文分享到
你可能還會喜歡
更多相關網站內容